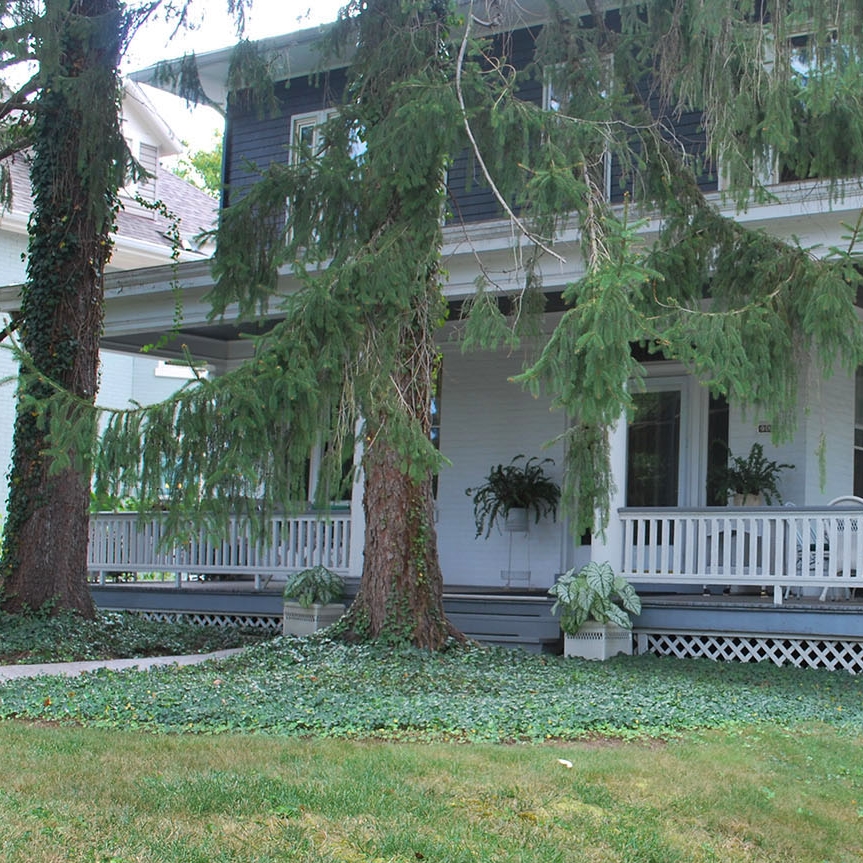 Houses
The historic, stately, well-kept homes provide an inviting back-drop for pedestrians, dog-walkers, runners, and bicyclists. Bus-lines are in close proximity. The Licking River Greenway path provides a varied walking and biking venue. And downtown Covington and Cincinnati are minutes away by bus, car or bike.
Adding a welcoming touch of landscape-creativity to the neighborhood are the traffic islands maintained by the Wallace Woods Neighborhood Association. And "turn-around park" at the end of Oakland Avenue, with picnic tables, provides the setting for our end of summer Corn Roast.
In addition to individual homeowners working to keep their properties looking good, we all help Wallace Woods by sharing information on reputable, reliable home-improvement contractors and home-service providers. Whether it involves roof repairs, landscaping, plumbing, electrical or just general maintenance, we all benefit from success stories. And tax credits may be available for historic preservation and/or energy conservation improvements. See links below.
History
Living History The Architecture of Northern Kentucky
A Wallace Woods home was featured in a regional video on the classic architecture in Northern Kentucky. This home is a classic example of a Colonial Revival built in 1908 that can be seen in this video at the 29:25 mark.
More information coming soon.
Safety and Security
Friendly neighbors who say hello and talk to each other; neighbors looking out for each other; and neighbors who report suspicious activity to the Covington Police, all help to keep our neighborhood safe and secure.
From an individual standpoint, installing outdoor lighting is one of the best things you can do to improve security around your home. Energy-efficient light systems on timers, or motion detector devices, will automatically illuminate the areas around your home in the nighttime whether you are at home or away.
Outdoor lighting also provides these benefits:
Lighting allows you to see who is at the door in the evening before you open it.
Home security systems in conjunction with outdoor lighting will help to lower your insurance premiums.
Outdoor lighting reduces the chance of trip/fall accidents for you and your invited guests.
Outdoor lighting makes your home look better and well kept. It adds curb appeal to your home.